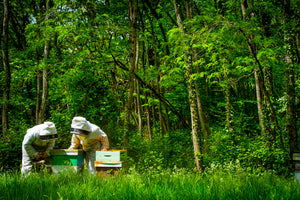 Bringing nature's nectar to you since 1973
Our Story
Bee Flower & Sun Honey has been producing and packing USA raw honey since the early '70's. Beekeeper Larry Saums started the company at a time when raw honey was scarce and the majority of honey products were ultra-processed and often contained additives such as corn syrup. As an early pioneer in the raw honey movement, Larry was committed to providing honey to consumers as nature intended - raw, unprocessed, unfiltered, and unpasteurized. 
Recognizing the commitment to an exceptional product, Whole Foods, ShopRite, and various health food stores picked up the Bee Flower & Sun Honey collection and continue to distribute it to this day in stores across the Northeast and mid-Atlantic.
As a family owned and operated business, Bee Flower & Sun Honey is proud to preserve the legacy of American made honey. At a time when more than 75% of honey consumed in the USA is imported, Bee Flower & Sun Honey is uncompromising in its commitment to beekeeping to provide pure, raw honey to health-conscious customers.
Our Guarantee
For almost 50 years, using time-honored techniques and sustainable beekeeping practices to preserve the unique flavor and nutrition of nature's nectar, Bee Flower & Sun Honey has, without compromise, provided honey as nature intended - pure raw honey foraged by bees from various wild blossom varieties. Bee Flower & Sun Honey's raw honey has a quality and flavor that's produced only in the hive. One taste tells.
Most commercial honey is either ultra-processed or pasteurized, destroying many of the beneficial properties of honey. However, by gently warming the honey to under 105 degrees Fahrenheit to facilitate handling, Bee Flower & Sun Honey ensures that the honey retains all the naturally occurring antioxidants, enzymes, vitamins, and minerals, including traces of wax, pollen, and propolis.
No value is taken out and no additives are put in. Our honey is not a genetically engineered food.
See more about our methods in 'Ethical Beekeeping & Sustainability.'